Access to capital
Capital is vital for the future and different kinds of capital are needed across the life cycle. Innovations such as consortium financing, where counterparty risk is collective, could build an area or asset approach to a project rather than a company focused one. Government establishing clear support around decommissioning could also make a huge difference to smaller operators – a decommissioning guarantee scheme to lessen the burden of abandonment letters of credit for example.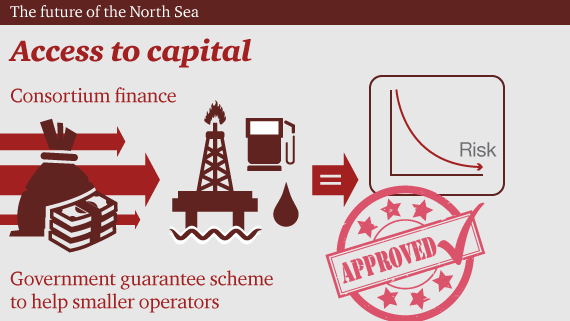 Technology & Innovation
There is a real need for a "North Sea champion" – leading the way in innovation, best in class working and cooperation. And the mindset of the basin needs to change – truly embedding the notion of working together for mutual risk/reward. Cost efficiency is paramount and goes beyond cost reduction, especially when combined with a reduction in complexity and a leaner way of operating.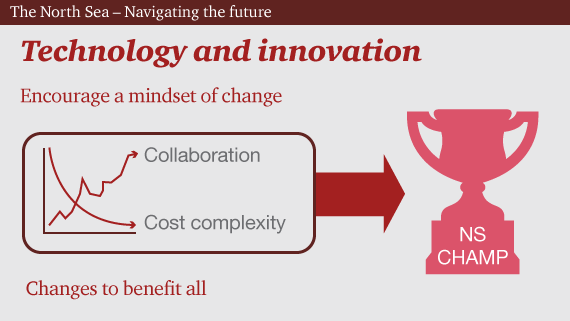 Collaboration
Collaboration is an over-used word, particularly in relation to the North Sea – the key is ensuring there is real mutual benefit for all parties. A salient example could be the creation of a "super JV" which consolidates smaller and fragmented assets under one sole operator. Such a JV would boast scale for cost efficiency and ensure a better bargaining position vis-à-vis suppliers. This would also enable a more coordinated approach to the decommissioning of the asset pool. Additionally, this would be a fantastic opportunity for the kind of consortium based approach to financing mentioned earlier.
Government and regulator
Government and regulators across the basin have a role to play – from clearly articulating their vision for the future to signposting the way ahead on topics such as infrastructure ownership, encouragement for exploration, decommissioning and the transition to low carbon. They all need to set a blueprint for the future.
Leadership
Leadership is a vital component too – recognising the importance of our global centre of excellence in Aberdeen, and other regional centres such as Stavanger, and their true potential, as well as the economic benefit for the region are vital. Additionally nurturing the talent of the future to drive those truly transformative changes, are key traits of real leadership; in the industry, operators and the supply chain will need to show leadership.
Decommissioning and low carbon
The elephant in the room is decommissioning but turning this to a positive could provide a further extension to the future by maximising efficiency from late life assets and exporting skill sets. Moreover, aligning our decommissioning planning to the transformation journey towards a lower carbon future would ensure a seamless transition and secure our energy future.